Customers Also Listened To These Songs
Anywhoo. This isn't about them. Any of them. Don't get us wrong they were all incredibly important to culture in their time and to this day are still inspiring people to grab a microphone and walk onto the green lit stage (tripping over the wire as they do, of course).
Still gagging for Saint Bill
WHAT WOULD Bill Hicks have made of his current canonisation? It is now 16 years since the American comedian died of pancreatic cancer, but he has remained impressively ubiquitous in the interim. Angrier young comics cite his influence. His tirades against American foreign policy are replayed to comment upon the nation's continuing experiments in inter-continental bellicosity. Hicks's routines – furious, righteous, unrelenting – have become holy texts for a new generation of politically tuned-in comedy fans.
Cancer diagnosis
I'm so sick of arming the world and then sending troops over to destroy the fucking arms, you know what I mean? We keep arming these little countries, then we go and blow the shit out of them. We're like the bullies of the world, you know. We're like Jack Palance in the movie Shane, throwing the pistol at the sheep herder's feet:
About Bill Hicks
He was one of the first to really discuss pointless insanity in the world and the banalities of life. While many comics make fun of politics and politicians, not many have punchlines that focus on how we are all one consciousness and that the purpose of life is love. How in order to be better people we need to "squeegee our third eye" that's been covered up by the day to day.
Bill Hicks (December 16, 1961 — February 26, 1994)
You know we armed Iraq. I wondered about that too, you know during the Persian Gulf war those intelligence reports would come out: "Iraq: incredible weapons – incredible weapons." How do you know that? "Uh, well…we looked at the receipts."
Previous Posts
On 24 June 1944 Bill was to become the first serving member of the 5DCLI to be awarded the Military Medal. The following story I have pieced together from books (both English and French) and from hours of audio-taped interviews of eyewitnesses, including Bill himself. These I have collected to write a biography of Bill. The story of his heroism even made a feature on the cover of a 1960s comic, 'The Victor' Issue No. 395 dated 14 September 1968.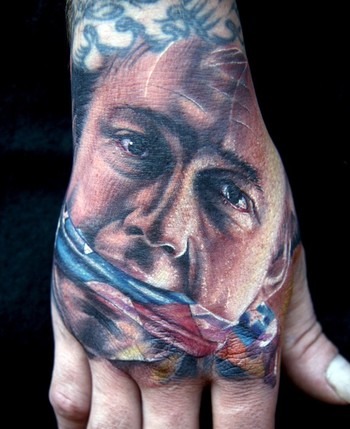 Quotes
Recorded at The Dominion Theatre in London in November 1992 at the height of his genius, Bill Hicks: Revelations: Live in London contains never-before-heard, unreleased audio from the last special he ever taped. Bill Hicks opens our eyes and minds to the hypocrisy and ludicrousness of the world around us. This year marks the 25th anniversary of the performance.
"Good evening, folks," says the comic, freeing the microphone from its stand, charting a course across the stage, his shadow following. His right hand searches the pocket of his baggy pants, puddled atop weary moccasins. The cool mesh orb grazes his lips, carries his voice over the crowd. "It's great to be back here in good ol'… where am I again?"